---
Join us for a
Magic Modern Tournament
Saturday, June 26th, starting at 1 pm

--------------------------------------------------
Join us for a
Magic Commander Tournament
Saturday, July 10th, starting at 1 pm
--------------------------------------------------
Only $3 to play in either one

Casual Play with PRIZES!!
---
** GO TO OUR  "MTG/Games" PAGE for information for your character building, the back-story of the time and setting for the game and more! **
-------------------------------------
-- Come and play on June 20 and every Sunday --
SUNDAYS from 1pm to 3pm
Learn and Play Dungeons and Dragons
ONLY $5
Must be 16 or older
Bring paper, pencil(s) and dice (and a miniature of your own, if you'd like, but we'll have some there to use.
---
---
We're open 11-5, M-Sa.  Still officially closed on Sundays for the time being, but we're often there for a few hours.

COMICS!  Go to our "WHAT'S NEW" page to see what came in last week and is coming in this week.

Be well!
---
---
* Preview a game you think you might want to own! 
* Get a game for a party you're having! 
* Try a game you've heard is good but never played!
How to rent...
"Buy" the game, bring it back in two days, we refund you 90% of the price.  Voila. 
This means 2-day rentals generally range between $2 and $5.  Not bad.
---
We want to help you promote yourself and your work.
Spend a day at BaT talking to people, showing your art and hopefully making some sales.
If you're interested, Email us to set up an appt. to come by and show us some of your art.
---
Spend $25 on any Chuck Palahniuk merchandise and get a FREE arm autographed by Chuck Palahniuk!
* Fight Club * Bait * Legacy *
---
Check out our 360 Virtual Tour posted on our Contact/Hours page.
---
---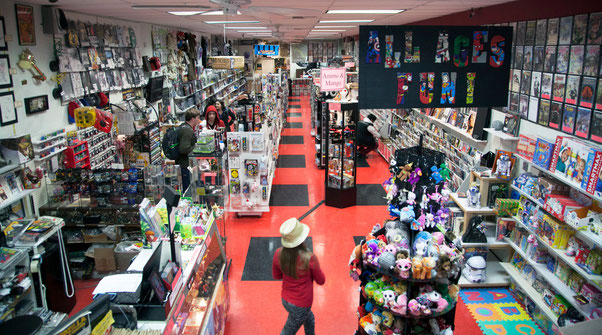 ---